Hydrate

Hydrate Sticks - Grape

When you are thirsty, you're already slightly dehydrated, and your body is lacking the water it needs to function properly. Hydrate delivers a carefully researched blend of vital electrolytes, antioxidants, MCT's, vitamins and minerals to protect the body from the harmful effects of dehydration.*
15 sticks per bag

Individually wrapped Hydrate powder in Lemon Lime, Watermelon, Fruit Punch, or Grape. Replenish, rehydrate, and recover with an IDLife's electrolyte fueled hydration drink mix.

Read More

Read Less

View Details

Hide Details

Ships Monthly or Quarterly

Save up to 20% on all orders for $19.95/yr.
Free Shipping
on orders over $150.
30-day Money Back Guarantee
Benefits
Safe for all Ages
Natural Flavors and Sweeteners
Coconut Water
Antioxidants
Electrolytes
Directions
Mix contents of one stick into 8-10 ounces of water. Shake well and enjoy!
View Supplement Facts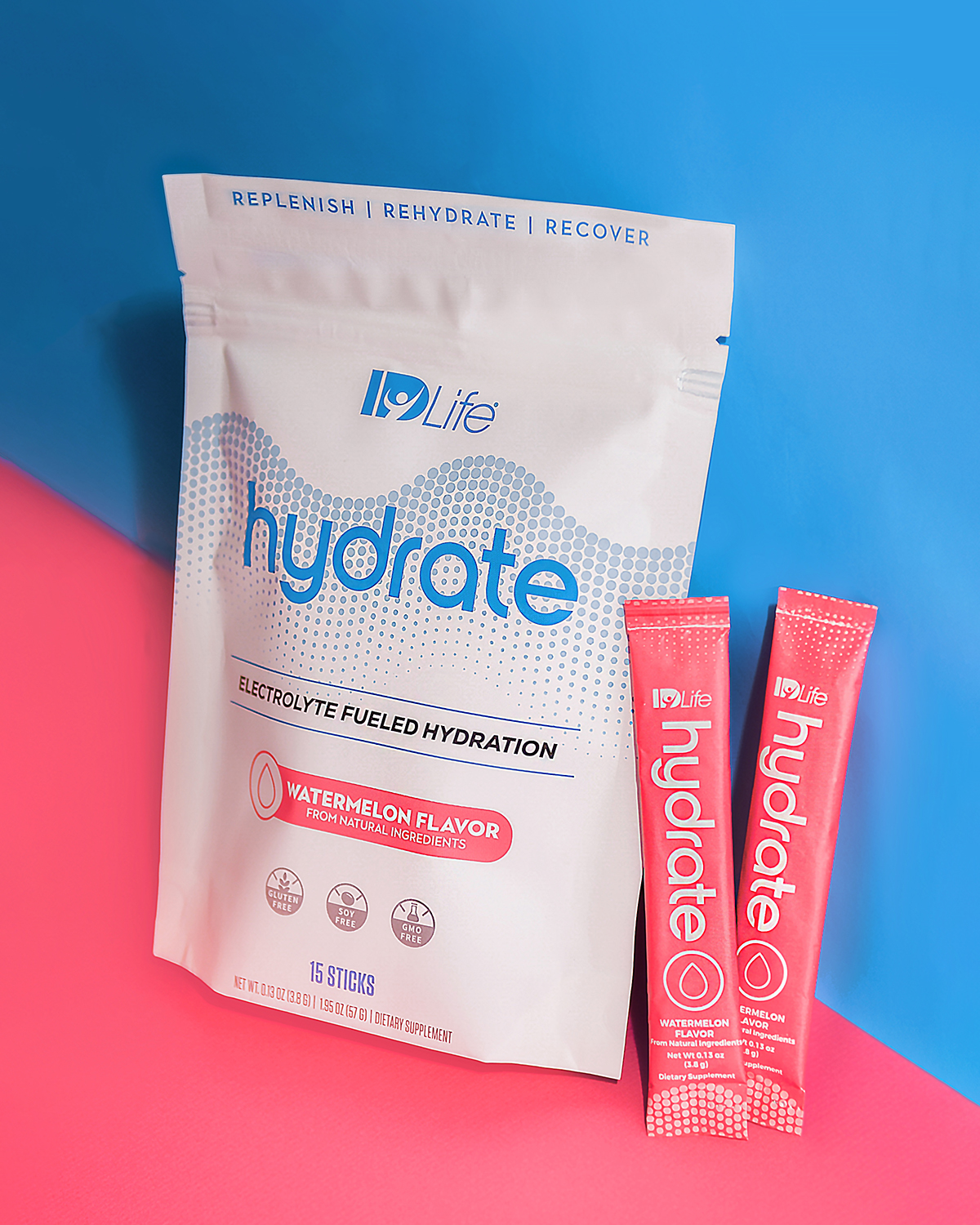 Frequently Asked Questions
Is it okay for kids to drink Hydrate?
Yes. Hydrate is a blend of essential minerals and electrolytes that is safe for children 2+.
Why is Hydrate better than other sports drinks I can buy?
Hydrate is a clean electrolyte replenisher that provides all the essential nutrients without all the added sugar.
How often can I take Hydrate?
It depends on the person. A properly hydrated person would most likely need one serving in a day. 75% of Americans are chronically dehydrated, it's recommended you use Hydrate at least two times per day.
How can I make Hydrate in large quantities?
One full jar of Hydrate is designed to mix with one 5-gallon sports jug so that you can easily hydrate a sports team or a group attending an event.
How much sugar is in Hydrate?
There is no sugar in Hydrate. It is naturally sweetened with Stevia.
What are the natural fruit flavors in Hydrate?
The Fruit Punch flavor consists of cherry, berry, and pineapple. The Grape flavor consists of grape. The Watermelon consists of Watermelon.
Can I use Hydrate with other IDLife products?
All IDLife products are designed to be consumed together and taken together. However, it is suggested that Hydrate & Slim+ be taken 30 minutes apart for best results.